LedMac Presentation Centres
At Ledingham McAllister, we are dedicated to creating superior homes. From exterior building details to intricate interior finishing, we ensure attention is paid to every detail so that nothing is overlooked. This high-quality design and craftsmanship is not limited to our communities but also extends to our Presentation Centres.
From the immaculately luscious exterior landscaping and impressive entrances, to our detailed designer display homes, our Presentation Centres are designed to create an experience for our homebuyers so that they can accurately envision themselves in their new LedMac home.
That's not all. At Ledingham McAllister, we understand the large investment of both time and money that goes into buying a home. That's why our professional and friendly sales team are dedicated to making the entire home buying process as simple and enjoyable as possible for all family members. We even have Kid Activity Zones to keep the little ones busy!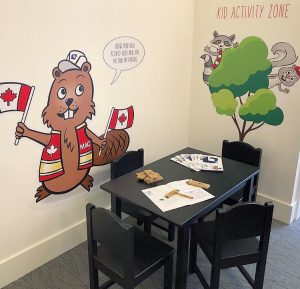 After looking at our display model, neighborhood map, floorplans, and interactive TV displays, just to name a few, our homeowners can feel confident that they are purchasing a quality home in a flourishing nieghbourhood from a trusted developer.
Our latest community Cedar Creek, is a perfect example of our state-of-the-art Presentation Centres. Located in the Edmonds neighbourhood of South Burnaby, Cedar Creek features two designer display suites showcasing each of our two colour schemes. Working closely with our talented interior design team, we ensure that our display homes are fitted with contemporary yet timeless décor. This may even help our homeowners get inspiration for ways to design their new home!
To experience, first-hand, our stunning Presentation Centres, stop by and take a look around Cedar Creek,  located at 7166 14th Avenue, Burnaby, open Saturday-Thursday from noon-5PM.