As Vancouver's original homebuilder, we pride ourselves on delivering the highest standards in the industry. We are committed to creating communities that are meticulously built down to the very last detail to ensure our homeowners are satisfied. We don't build single residences; we create communities within flourishing neighbourhoods that provide a sense of belonging for everyone.
One of our most recently sold out communities, Seasons, is a perfect example of this. Located in the heart of Burnaby, this community boasts beautiful architecture, luxurious amenities, and is located walking distance to the sky train. More importantly, Seasons is a lively community that encourages relationships and a sense of inclusion.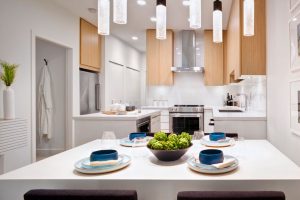 Earlier this month, organized by our Strata Property Management Group, First Service Residential, we held a block party full of pizza, beverages, and raffle prizes for our Seasons homeowners. The raffle included household gifts that were generously provided by our leading sponsors including Shaw industries, Metropolitan floors, Kohler, and Trail Appliances. This event allowed new homeowners to mingle, make connections with their neighbours and most importantly, enjoy their new community.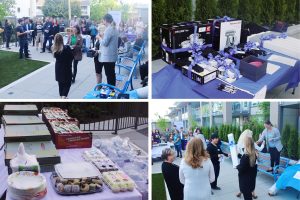 One of our Seasons homeowner's, Anne Smith, quoted the following – "I am a senior with some specific needs. I needed a walk-in shower to replace a bathtub that is hard to get in and out of. I needed a parking spot near an elevator to make lugging groceries easier for arthritic hands. My sales person, Jennifer arranged with Led Mac to have my needs accommodated. She recommended a condo that best suited me. I love my new spacious home. Every day I am grateful to feel that I have checked into a four-star hotel that I never have to leave."